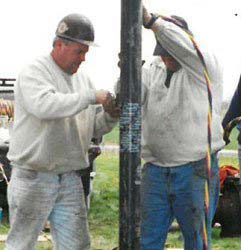 Goold Wells & Pumps is an established well company based in Columbia County, New York, serving customers from the Capital Region to the Berkshires. We offer a wide range of services, all centered around a singular goal: to use our knowledge of subterranean drilling and water delivery to help local home and business owners live and work in safe, comfortable environments. There is no "typical" customer at Goold Wells & Pumps—we see every job as the unique project that it is. There is no job too complex or too small for our water well professionals.
Our well contractors are available to perform:
Well drilling
Well water pump installation/repair
Well water testing
Filtration system installation
Water pressure improvements
Hydrofracking
Geothermal well drilling
There are many water well contractors out there, but no well company can match Goold Wells & Pumps when it comes to years of experience and ongoing dedication to the well drilling industry. We are a third-generation well company, and have been in continuous operation since 1928. A lot has changed in the well industry over the past 90 years, but our dedicated team has always made it a priority to stay abreast of all innovations so we can continue to offer the very best services to our customers. Our dedication to our craft and our customers has always remained a constant.
Well Design
Wells are not a "one size fits all" utility. Every well is unique to its user and to the property on which it is located. Every well our well contractors drill is custom-designed to fit our customers' unique needs. Factors such as intended use, water table height, and specific area geology play a major role in what type of well will be drilled, how deep it will be, how thick the walls will be, and what type of materials will be used. Our water well contractors will expertly design your well from start to finish. This includes tasks such as:
System layout
Water table assessment
Contamination check
Acquisition of all necessary permits
Whether you need water well professionals to help you drill a well on a newly acquired piece of property or you need ongoing water problems diagnosed and repaired, you can expect nothing less than stellar service and reliable results from the team at Goold Wells & Pumps. Call today to discuss your Albany-area project with our well contractors, and to receive a free cost estimate.