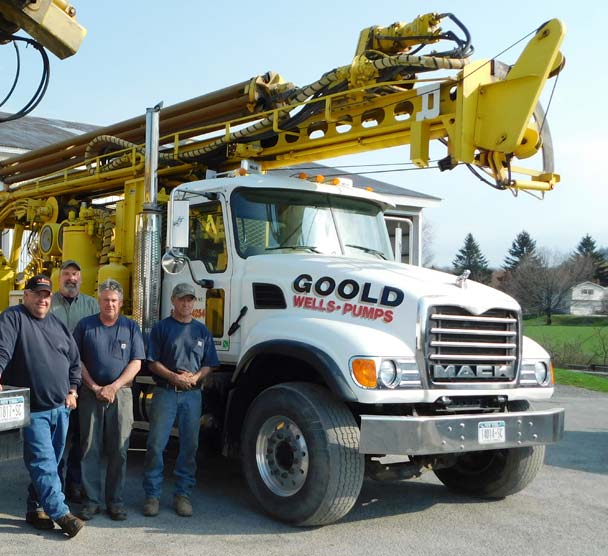 Established in 1928 by W. Gordon Goold and his brother, Goold Wells & Pumps is proud to be the oldest and largest well company in New York State's Columbia County. For three generations, our team has been fully committed to providing area residents and property owners with the very best in well installation, water filtration, pump repair, and other water delivery and quality services.
We enjoy our work, not only because we believe in our mission of providing access to clean and safe water, but also because we truly enjoy meeting our customers and learning how we can best help them be completely satisfied with their water. Each customer interaction serves to deepen our dedication to our mission, and gives us a finer understanding of our industry and the people it serves. We also enjoy sharing our knowledge with customers to help provide them with the tools to understand how their well works and how it affects their property.
Professional Well Contractors
Many companies attend to well and water issues in addition to providing numerous other home improvement services. At Goold Wells & Pumps, our well services are not an afterthought or a side venture: they're what we are all about. Our well contractors are completely dedicated to all things having to do with your well and water supply. Contact us today if you're interested in assistance from well contractors who are:
Dedicated

—We have low turnover at Goold Wells & Pumps. Many employees have been with us for more than 20 years!

Community-focused

—Goold Wells & Pumps belongs to the Columbia County Chamber of Commerce.

Educated

—Our team makes it a point to keep abreast of all new industry techniques and innovations. We are also certified by the National Ground Water Association and are fully licensed, bonded, and insured.
Our well company offers customers the winning combination of top-notch craftsmanship, excellent care, and 90 years of experience. Contact us today by phone or email to learn more about our wide range of water services, from water well fracking to pump repair. We can help you enjoy years of clean, safe, and hassle-free water. Don't hesitate to reach out to us to fulfill your well water needs!